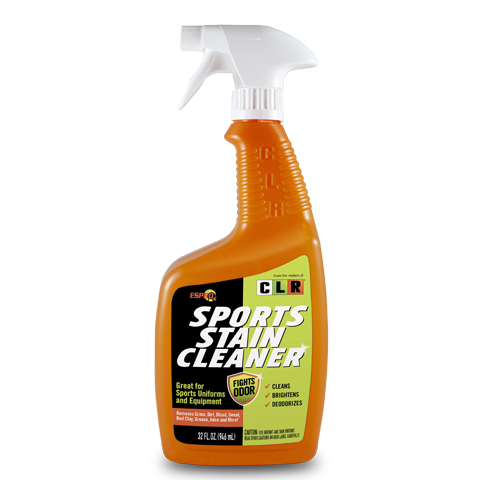 CLR® Sports Stain Cleaner
Powerful stain remover specifically formulated to deep clean sports uniforms and equipment.
Contains brighteners to maintain that "like new" look.
Effectively removes a wide variety of tough stains common in sports activities.
Fights Odors to keep uniforms smelling fresh.
Doesn't contain butyl, bleach or phosphates.
Effective on: Red Clay, Mud/Dirt, Grass, Field Paint, Juice, Blood, Ink/Marker, Red Wine, Sweat Stains, Grease, Coffee, Soda and more…
Available in: 32 oz. trigger spray.
For use on these surfaces
Apparel
Sports Uniforms, Jerseys
Sports Equipment
More information
How to use this product
For Odor Elimination without washing: Lightly mist clothing, jerseys, etc. twice and allow to air dry.
Directions for Clothing & Apparel:
Spray liberally onto stained area and rub it with a soft brush.
Let sit for 3-5 minutes before washing.
For old set in stains: Spray liberally and let sit for 24 hours. Spray again and let sit for 3-5 minutes before washing.
Directions for Sports Equipment & Gear:
Spray onto surface and let sit 1-2 minutes.
Wipe dry with a clean cloth.
If cleaning cloth, cotton, or other fabric surfaces – let air dry.
We recommend cleaning equipment weekly for ultimate odor protection.

What the Safer Choice Award is?
The EPA's Safer Choice program helps consumers find products that perform and are safer for human health and the environment.
What that means
for you.
We've been recognized as the Safer Choice Partner of the Year for the past five years because of our outstanding achievement in the use of products that meet the Safer Choice program's stringent health and environment standards.

What that means
for the environment.
To help formulate safer products, Safer Choice developed the Safer Chemical Ingredients List, which contains more than 750 chemicals that meet Safer
Choice criteria.