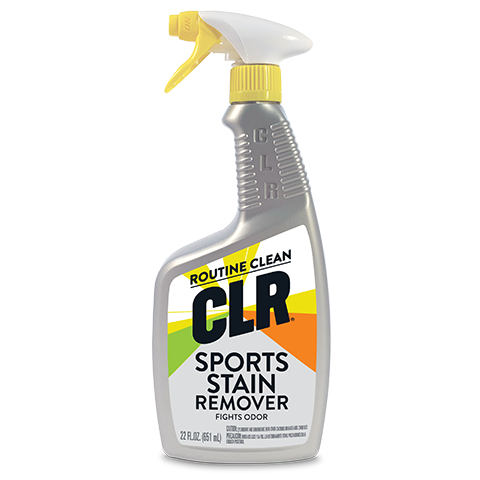 CLR® Sports Stain Remover
Powerful stain remover specifically formulated to deep clean sports uniforms and equipment.
Contains brighteners to maintain that "like new" look.
Effectively removes a wide variety of tough stains common in sports activities.
Fights Odors to keep uniforms smelling fresh.
Doesn't contain butyl, bleach or phosphates.
Effective on: Red Clay, Mud/Dirt, Grass, Field Paint, Juice, Blood, Ink/Marker, Red Wine, Sweat Stains, Grease, Coffee, Soda and more…
Available in: 32 oz. trigger spray.
For use on these surfaces
Apparel
Sports Uniforms, Jerseys
Sports Equipment
More information
How to use this product
For Odor Elimination without washing: Lightly mist clothing, jerseys, etc. twice and allow to air dry.
Directions for Clothing & Apparel:
Spray liberally onto stained area and rub it with a soft brush.
Let sit for 3-5 minutes before washing.
For old set in stains: Spray liberally and let sit for 24 hours. Spray again and let sit for 3-5 minutes before washing.
Directions for Sports Equipment & Gear:
Spray onto surface and let sit 1-2 minutes.
Wipe dry with a clean cloth.
If cleaning cloth, cotton, or other fabric surfaces – let air dry.
We recommend cleaning equipment weekly for ultimate odor protection.