Hacks for organizing your cleaning products
Keeping a clean home can make you feel like you're on a neverending treadmill. It feels like you just finished cleaning, then you turnaround, and ugh! You have to start all over again. Who has time for this?! Relax... We put together a few simple tips to help make cleaning a little faster, easier, and even a little safer.

Use a shoe organizer for quick access.
Get yourself a shoe organizer that can hang from the pantry or closet door. Not only are they inexpensive ($9.00-$15.00), but you can see everything through the clear plastic for quick and easy access. One thing you should keep in mind, over time, the weight from the cleaning fluids can cause some scratches to the top of the door. If you're using a pantry that you access frequently, you might want to consider using some medium-duty Command® hooks instead of the hangers. You may also want to attach a few strips of Velcro® at the bottom, so it doesn't move too much as you swing open the door.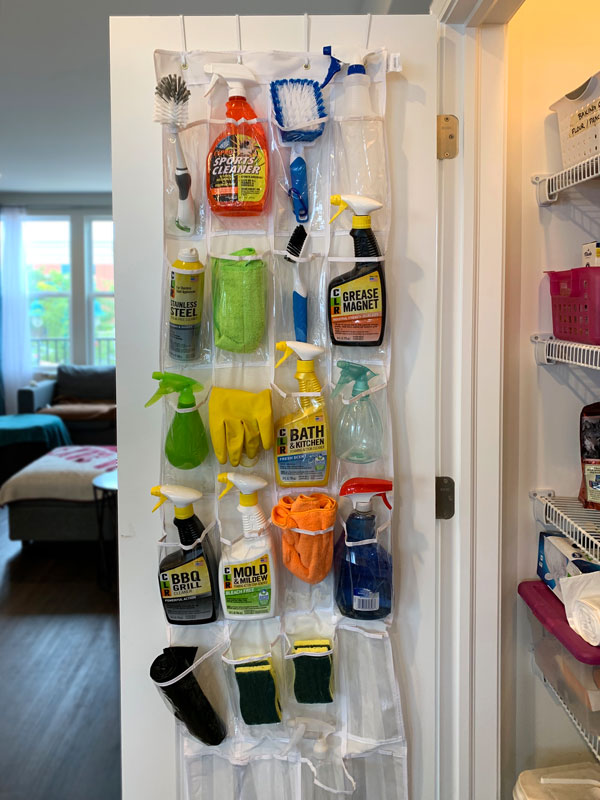 Install a tension rod under the sink.
If you are like most people, the under the sink cabinet in your kitchen can use some attention. It's no wonder, all the pipes, cords, and the garbage disposal makes it awkward to use the space efficiently. You probably have to dig around looking for cleaning supplies among the myriad of items. To help alleviate this problem, get a tension rod to hang your favorite trigger spray cleaners or wet towels. It makes for quick access without having to bend down, and they can be easily moved from side to side to access any items in the back of the cabinet. Most are inexpensive ($2.50-$4.00) rods you find at your local home store will work, however, some cabinets have a smooth finish, in that case, you may want to get one that provides more tension.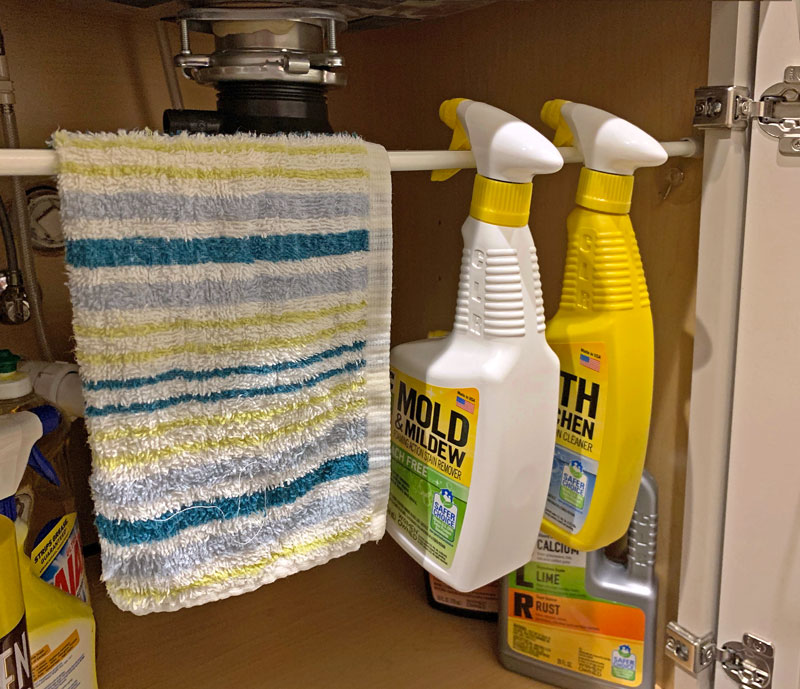 Take advantage of cabinet doors.
Another option to help organize under the sink, or any cabinet for that matter, is to place frequently used items on the door. There are many advantages:
Quick and easy access without bending down. Do you notice a pattern here?
Allows for more room in the cabinet for clutter-free storage.
And perhaps most importantly, it provides an out-of-site area to store wet items like sponges and brushes so they can dry faster. Kitchen sponges are notorious for making people sick. Mold and Mildew spores just love them. They can start forming on a wet sponge or a rag in only a day. We found that some blogs recommend having a "wet bag" for keeping wet sponges and rags until wash day. Don't do it! Make sure you keep wet items in an open-air area where they can dry, even if you plan on washing them in a day or two. Bonus Tip: The safest and most effective way you can kill all the micro-organisms in your sponges is to pop them in the microwave for 3 minutes before washing them in your dishwasher's high-temp cleaning cycle.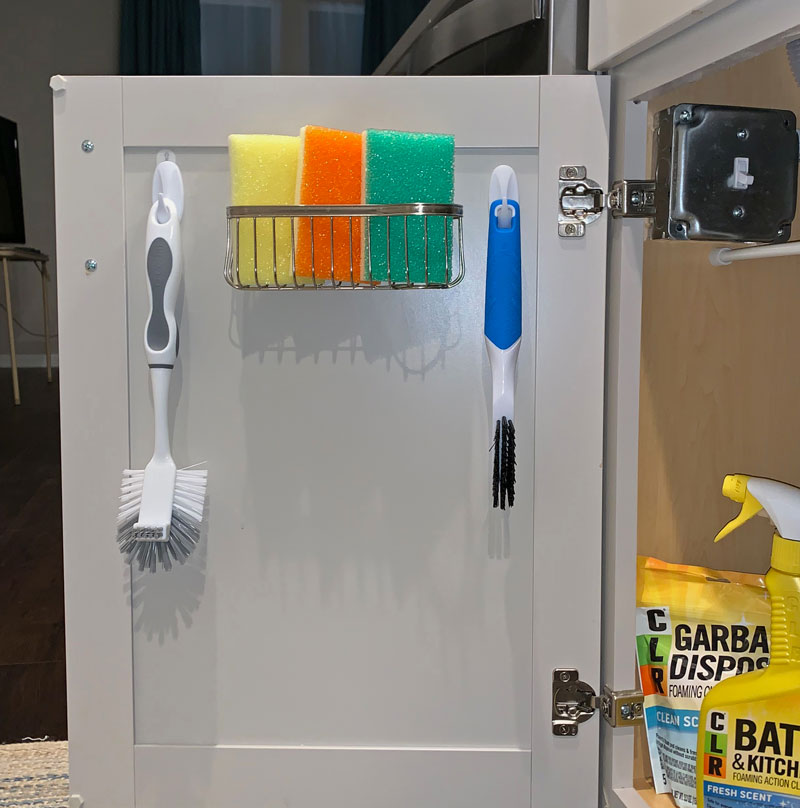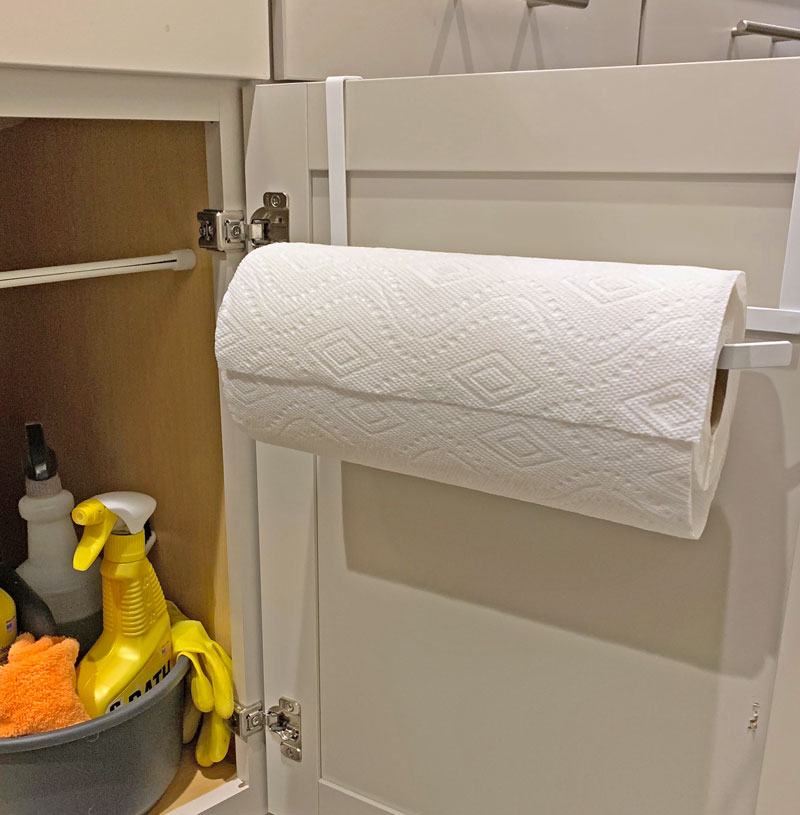 Stash a few small "cleaning caddies" in multiple areas in your home.
Professionals will tell you that the best way to keep your home consistently clean is to "clean as you go." Keep your favorite cleaning supplies handy for everyday cleaning routine in a small, easy to carry bin. These can be easily stored under the cabinet or on a shelf in the rooms that need daily attention. We like the caddies that can fit over a bucket for under the sink for when you need to do a quick mop.




Garage and heavy-duty cleaning.
Create a separate bin for more specialized cleaning tasks. Like cleaning the oil grease and grime from your garage floor, tools, barbecue grill, and your outdoor furniture.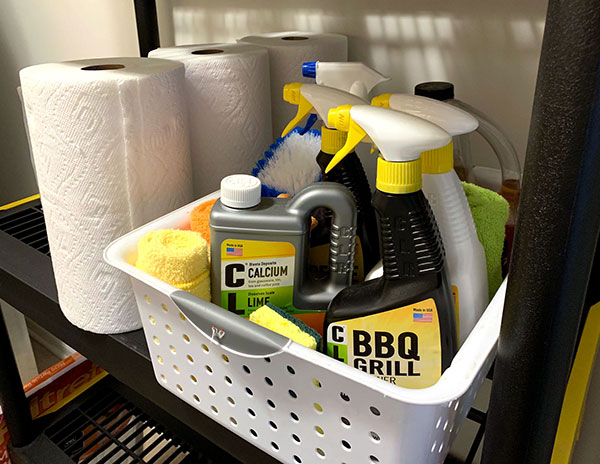 Here are a few other tips for organizing your cleaning supplies:

Use metal keyrings and a hook to hang brushes for easy access. They are cheap, and you can place them virtually anywhere you need it. We like the Command hooks because there are easy to install and they come in a wide variety of styles and sizes.
If you have some extra cash to splurge a little, it can be worth it going to a home store and check out their storage solutions. You may find quite a few products that are designed especially for your needs—for example, wire baskets to hang on the back of doors and pull-out shelves that would fit your cabinets perfectly.
We hope you find at least some of these tips will help you take back your day! If you have other tips and tricks for making your cleaning quicker and easier, let us know. We'd love to hear from you.