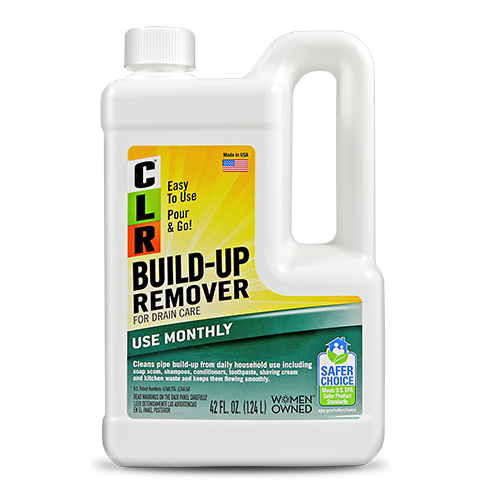 CLR® Build Up Remover
Dissolves sources of clogs such as oil, soap scum, shampoos, conditioners, toothpaste, shaving cream and kitchen waste.
Keeps drains running smoothly. Use in sinks, toilets, showers, drains, garbage disposals and grease traps.
Fragrance free- safe for all pipes and drains!
Part of the EPA's Safer Choice Program recognizing the product as a safer alternative to traditional chemicals, and contains no phosphates and is Septic Safe.
Look for CLR Build Up Remover in these sizes: 42 oz. bottle
More information
How to use this product
For best results apply during time of minimal water usage or overnight.

Slow Drains:
Apply 2 ounces per day directly into drain for 5 consecutive days or until drain flows freely.

Drain Preventative Mainentance:
Apply 3 ounces per month directly into each drain.

Garbage Disposals:
Pour 2 ounces per month into running disposal. Quickly turn off disposal and let sit overnight.
Product ingredients
Water
Dilutent: CAS #7732-18-5
EPA Approved
Dilutent: CAS #7732-18-5. Reverse Osmosis (RO) is a water treatment process that removes contaminants from water by passing the water through a membrane, (filter), where contaminants are filtered out yielding more pure quality water.
Ammonium Phosphate, Monobasic
CAS #7722-76-1.
EPA Approved
An inorganic salt widely used in fertilizer, baking powder and yeast production. It is also employed as an agent to control pH of a solution, in corrosion inhibition.
Sodium Nitrate
Corrosion Inhibitor: CAS #7632-00-0.
EPA Approved
Corrosion Inhibitor: CAS #7632-00-0. It can be used as an additive in industrial greases, as an aqueous solution in closed loop cooling systems, and in a molten state as a heat transfer medium. It is also a common food preservative.

What the Safer Choice Award is?
The EPA's Safer Choice program helps consumers find products that perform and are safer for human health and the environment.
What that means
for you.
We've been recognized as the Safer Choice Partner of the Year for the past five years because of our outstanding achievement in the use of products that meet the Safer Choice program's stringent health and environment standards.

What that means
for the environment.
To help formulate safer products, Safer Choice developed the Safer Chemical Ingredients List, which contains more than 750 chemicals that meet Safer
Choice criteria.