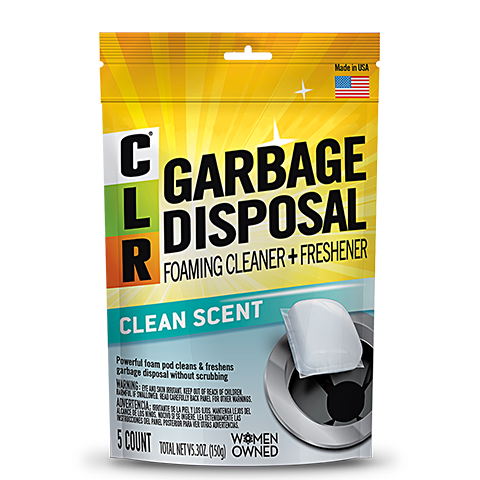 CLR® Garbage Disposal Foaming Cleaner
Fast dissolving with a fresh CLEAN SCENT to safely remove disposal odors from food waste residue.
Use weekly for best cleaning and odor control.
Look for CLR Garbage Disposal in these sizes: 5 pod count pouch
More information
How to use this product
Start with empty sink and disposal. DO NOT TURN ON DISPOSAL.
Run hot tap water full force for 1-2 minutes directly into garbage disposal. Reduce tap water to pencil width stream away from the drain – off to side of the sink, not directly into drain.
With disposal off, and water still at a stream INSERT ONE UNOPENED pod completely into disposal. Turn on garbage disposal.
White cleaning foam should rise into the sink or both sides if using in a double sink. Run disposal until foam retreats from sink into disposal (1-2 minutes).
Turn off disposal and tap water. To ensure best cleaning results, wait approximately 5 minutes until foam has retreated from disposal.
Rinse remaining foam from sink and disposal.