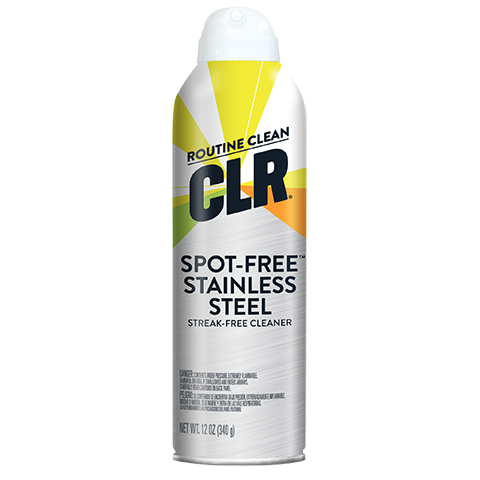 CLR® Spot-Free Stainless Steel
Easy-to-use, one-step stainless steel cleaner.
Cleans and shines all stainless steel appliance exteriors including refrigerators, dishwashers, ovens, stoves, countertops, barbeque grills and the exterior of many small stainless steel appliances.
Removes dirt, residue and fingerprints and leaves a streak-free, shiny protective barrier.
Look for CLR Spot-Free Stainless Steel in these sizes: 12 oz. aerosol can.
For use on these surfaces
Stainless Steel Exteriors
More information
How to use this product
Appliances should be turned off and cool.
Wipe or clean any residual cleaning product before using CLR® Spot-Free Stainless Steel.
Shake well before each application.
Hold can 6 inches from surface and spray lightly.
Wipe area with clean soft cloth.
Heavily soiled areas may need a second application.