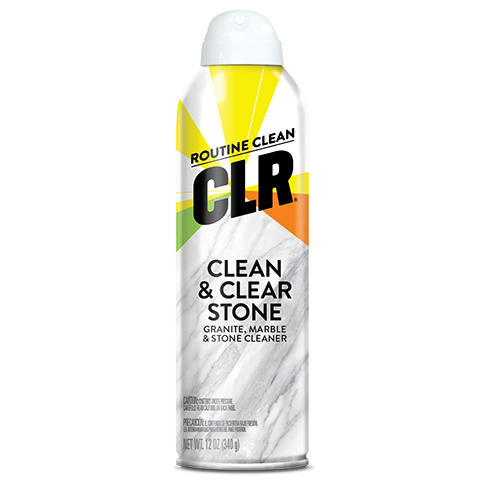 CLR® Clean & Clear Stone
Specially formulated to clean and protect against spills, food and grime on a wide variety of hard surfaces including natural stones, marble, Corian® and tile.
Cleans and protects in one step, while restoring and maintaining the luster of the surface and provides a streak-free shine.
To keep your stone surfaces well maintained, do not use abrasive cleaners on stone surface. Blot up spills immediately. Do not allow juices, wine, vinegar, or other acidic liquids to linger on the stone surface.
Look for CLR Clean & Clear Stone in these sizes: 12 oz. aerosol can
For use on these surfaces
Corian
Granite
Marble
Tile
More information
How to use this product
Shake well before each application.
Hold can 6 inches from surface and spray lightly.
Wipe surface with a clean, dry cloth or paper towel, turning occasionally.
For hard to reach surfaces, spray product directly onto cloth and wipe. Heavily soiled surfaces should be wiped off prior to using CLR® Clean & Clear Stone.
Product ingredients
Water
Dilutent: CAS #7732-18-5
Meets EPA Safer Choice Criteria
Dilutent: CAS #7732-18-5. Reverse Osmosis (RO) is a water treatment process that removes contaminants from water by passing the water through a membrane, (filter), where contaminants are filtered out yielding more pure quality water.
Propylene Glycol Propyl Ether
Solvent: CAS #1569-01-3.
Meets EPA Safer Choice Criteria
Solvent: CAS #1569-01-3.
Butane
Propellant: CAS #106-97-8.
Meets EPA Safer Choice Criteria
Propellant: CAS #106-97-8. A compound of hydrogen and carbon, which is a component of natural gas. Commonly used as a propellant in aerosol dispensors to impart motion to another substance.

California CPRKA Designated Lists
(2) EU CMRs. https://echa.europa.eu/documents/10162/13562/cmr_report_en.pdf
Propane
Propellant: CAS #74-98-6.
Meets EPA Safer Choice Criteria
Propellant: CAS #74-98-6. A compound of hydrogen and carbon, which is a component of natural gas. Commonly used as a propellant in aerosol dispensors to impart motion to another substance.

California CPRKA Designated Lists
(12) US NTP Reproductive or Developmental Toxicants. https://ntp.niehs.nih.gov/publications/monographs/index.html
Silica Dimethicone Silylate
Surfactant: CAS #84133-50-6.
Meets EPA Safer Choice Criteria
Surfactant: CAS #84133-50-6.
Sodium Nitrite
Corrosion Inhibitor: CAS # 7632-00-0.
Meets EPA Safer Choice Criteria
Corrosion Inhibitor: CAS # 7632-00-0. It can be used as an additive in industrial greases, as an aqueous solution in closed loop cooling systems, and in a molten state as a heat transfer medium. It is also a common food preservative.

Please see specific disclosure information provided by the formulator/manufacturer: EU Fragrance Allergens
Fragrance
Fragrance Component: CAS #TradeSecretFragrance13.
Meets EPA Safer Choice Criteria
Fragrance Component: CAS #TradeSecretFragrance13. A more environmentally responsible proprietary fragrance made in accordance with current natural and organic global regulations.
Tetrasodium EDTA
Chelating Agent: CAS #64-02-8.
Meets EPA Safer Choice Criteria
Chelating Agent: CAS #64-02-8.
Chelating Agent
Chelating Agent: CAS #TradeSecretChelatingAgent.
Meets EPA Safer Choice Criteria
Chelating Agent: CAS #TradeSecretChelatingAgent.
PEG-115M
Solvent: CAS #25322-68-3.
Meets EPA Safer Choice Criteria
Solvent: CAS #25322-68-3.
Myrcene
Fragrance Component: CAS #123-35-3
Meets EPA Safer Choice Criteria
Fragrance Component: CAS #123-35-3.

California CPRKA Designated Lists
(1) California Proposition 65. https://oehha.ca.gov/proposition-65/proposition-65-list
(9) IARC Carcinogens. https://monographs.iarc.fr/agents-classified-by-the-iarc/